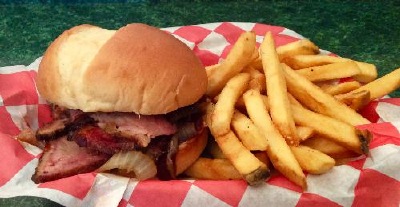 Please find our menu online at the links below. Grill orders may be called in (717-486-3424) at any time up to 1 hour before closing time, ice cream orders may be called in but we highly discourage it as soft serve ice cream is meant to be consumed fairly quickly after leaving the machine (this applies mostly to sundaes). Please be aware that items containing hot fudge or hot caramel will not be made until you arrive for pickup to ensure product quality.

Please approach the "Pick Up" Window (NOT the "order window" unless you feel like waiting in line...) to pay for and receive your order. Please provide your name and phone number when calling in an order.



PLEASE NOTE: Our phone line can get very busy especially in the evening, so if you call and get a busy signal, please wait 5 minutes and try again! If you cannot get through, please come to the shop to place your order!



Burger Menu

Sandwich Menu

Sides Menu

Ice Cream Menu - Specialty Sundaes

Ice Cream Menu - Shakes, Floats, Twisters

Ice Cream Menu - Cones, Dishes, Extras

Ice Cream Menu - Classic Sundaes, Other Treats